Reduce, Reuse, Recycle, Refuse
RECYCLE LIKE YOU LIVE HERE — THREE EASY STEPS
1. Learn what goes in Vermont curbside/blue recycling bins
Empty and rinsed clean Containers like bottles, cans, and jars, and clean and dry Paper and Cardboard. Aluminum, steel, glass, paper, cardboard, and plastics #1 and 2 are banned from the landfill so they must be recycled.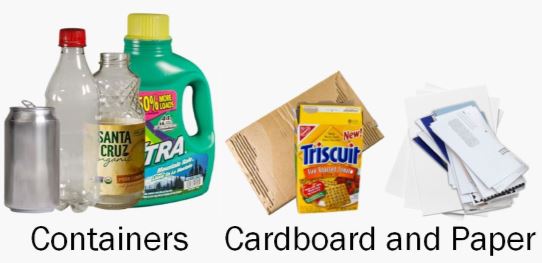 2. Learn the blue bin recycling DOs and DON'Ts
Click image to enlarge.

DO rinse recyclable containers clean. They don't have to be perfect—just free of most residue.

DO breakdown and fold large cardboard boxes.
DO buy materials made from post-consumer recycled materials—you'll help create markets for recyclabes!
DON'T place styrofoam, drink cartons (milk, juice, pouches, etc.), or black plastic in the recycling. There is no current market for these materials.
DON'T put anything smaller than two inches on two sides in your recycling bin.
DON'T place plastic bags in the recycling bin. Bags clog up the sorting machines.
DON'T put anything with leftover food on it in the recycling. That's gross! And it reduces the value of the recyclables.
Real people sort recycling! When you put the wrong things in your bin, it makes their job gross—or downright dangerous. The photos above are things that cause the most problems at sorting facilities. Please don't put them in your recycling bin or cart. Some of these materials, however, can be recycled elsewhere!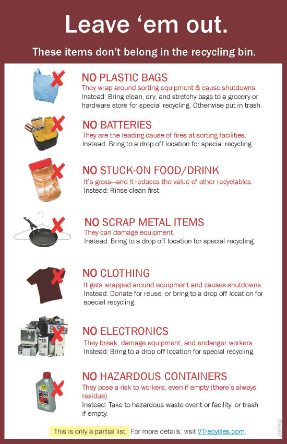 3. Ask your town or hauler what else you can recycle.
You may be able to recycle other items in your town, either in your mixed recycling bin or at a special drop-off. Contact your hauler to learn more.
Wondering about a specific item? Explore your waste district or town's online A-Z guide, a searchable list of what to do with many items in your region. If something is missing from the A-Z list, ask them to add it!
Visit our "What Do I Do With ...?" page to learn more about state-wide drop-off recycling programs for other materials, like electronics, batteries, and paint.
Have questions?
Why recycle?
It's a simple way you can take care of our beautiful state. Recycling creates jobs and new products, reduces climate change, and conserves resources, energy, and landfill space. In Vermont, your recycling can be picked up curb-side or you can drop it off at a transfer station or recycling center.
Ready to spread the word?
Go to the Universal Recycling Downloads page for posters, fact sheets, and signage for recycling, compost, and trash containers.
Recycling and composting are great, but the biggest impact you can have on Vermont's waste stream is to create less waste in the first place.
There are countless ways to reduce waste, and many will also save you money, especially in the long-term. Start with the ideas that feel right for you and remember that "zero waste" is a goal that starts with creating "less waste." Every product has waste associated with some stage of its life cycle, and some types of waste can't be avoided. That's ok. Little changes really can add up to make a big difference.
Ideas for reducing waste:
Purchasing:
Buy second-hand (or swap or borrow instead of buying)
Buy reusable rather than single-use items
Shop local to avoid shipping waste
Select items with minimal packaging
Select items made from recycled materials (especially post-consumer recycled content)
Buy in bulk (fill your own containers)
Select items with recyclable packaging
At Home:
Repurpose items you already have
Go paperless for bills and bank statements
Use cloth napkins and rags to reduce paper towel/paper napkin waste
Follow low-waste cooking strategies (see below for cookbook suggestions)
Only throw out food when it's actually bad
Cook from scratch and eat everything that's edible
Use reusable food wraps, snack bags, and storage containers
Make your own household cleaning products and stop using toxic chemicals/cleaners that contribute to household hazardous waste and are costly to dispose of
Out and about:
Bring reusables with you – shopping and produce bags, water bottle, travel mug, container for leftover food, utensils, straw, cloth napkin, etc.
Refuse:

Single-use products – shopping bags, extra napkins, straws, utensils, etc.
Excess packaging and paper receipts
Special Occasions:
Wrap gifts creatively; use bags, scarves, towels, fabric, newspaper, used wrapping paper, etc.
Make cards out of recycled materials
Give experiences like gift certificates to favorite restaurants, parks, entertainment outlets and more instead of things
Make gifts – especially upcycling items into something new
Parties and Events:
Go digital for invitations and RSVPs
Get the word out; make sure all guests/participants know about zero waste goals
Use minimal decorations; feature reusable items that you already own; DIY from recycled materials
Serve finger-food instead of dishes requiring plates and utensils
Provide clearly-labeled sort stations for compost, recycling, trash, and redeemables (most effective if a volunteer stands by to help)
Use reusable dishes, utensils, cups, table cloths, and napkins – borrow or rent if you don't have enough
If you choose single-use items, try buying products like paper napkins made with recycled content. If we want to make recycling work, we need to buy recycled. If you choose to use compostable products, first consider if your compost facility and food scrap hauler accepts them. If they don't, they will need to be disposed in the trash. If they do, make sure compostable bowls, plates, utensils, etc. are BPI certified compostable.
Want to learn more? Check out these external resources:
LOCAL REUSE STORES
We've all heard the phrase before — one person's trash is another's treasure. Before looking for a place to dispose of something, try to think: "is it still usable?" Then check out our reuse store catalog! You can also post on Freecycle.org(R) or your local Front Porch Forum.
Additionally, there's almost always a way to reuse items that you might normally throw out. Plastic bags, twist ties, bread clips, and other items that can't be recycled can complement each other to store food and go bulk shopping. Even items that are put in the recycling (scrap paper, glass or plastic containers/bottles) will likely have more success being reused than tossed away. Just by searching "reusing items around the house" one can find so many creative ways to repurpose!
Visit our Pinterest site for lots of great ideas for reuse and upcycling!